Arrival
From DebConf7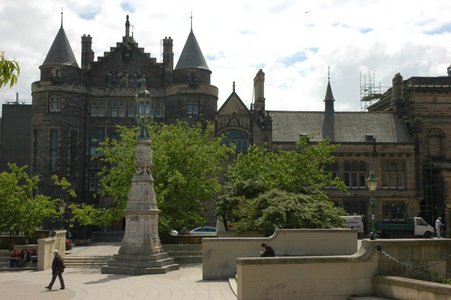 This page describes how to get to DebConf once you have arrived in Scotland. Information about international travel is available on a separate page.
Print before you travel: arrival cheat sheet
There is a box in the conference management system that you can tick to let other attendees see your arrival and departure details (as seen here).
From Edinburgh Waverley station
If you have much luggage, it will be easiest to get a taxi to Teviot. There is a taxi-rank inside the station, and another on Waverley Bridge to the west, opposite the airport bus terminus.
Teviot is 10 to 15 minutes' walk from Edinburgh Waverley station.
From Edinburgh Airport
On the arrival day (Saturday 16 June), we hope to have someone from the DebConf team at the airport to welcome people and help them arrange onward travel to the venue with others arriving around the same time.
If you arrive in a group we suggest taking a taxi directly to the venue, otherwise the cheapest option would be to start by taking the bus into the city:
Bus
A shuttle bus runs from Edinburgh airport to the city centre (map) every 10 minutes during the day (less frequently after midnight), taking 25 minutes to reach its terminus at Waverley station (less if the roads are quiet). Most people should buy a return ticket, which costs £5 (€7), and keep it for when they leave. A one-way ticket costs £3 (€4). http://www.flybybus.com/
From Waverley station follow the directions above.
Alternatively, if you really want to save money you could take the number 35 bus into the city. This is slower (an hour to the centre rather than 25 minutes), less easy to use (you can just take the shuttle bus to its terminus, and it has announcements about the stops along the way), stops running at night, and you need the exact money to buy a ticket. On the other hand, it is cheaper (£1 for a single ticket), and goes along Forrest Road, which is almost as near Teviot as a taxi would take you.
Taxi
Follow the signs to the taxi rank outside the terminal; the staff at the rank will assign you to a taxi. As well as the city taxis there are special airport taxis; either kind will take you into Edinburgh. If you are in a big group, try asking for a larger vehicle.
To get to Teviot, it's quickest to ask the taxi-driver to take you to Bristo Square, then walk across the pedestrian square to reach the building.
A taxi from the airport to Teviot is likely to cost around £15.
Shared taxi
There is also a shared taxi service, costing £8 per person from the airport to anywhere in the city centre. See http://www.edinburghshuttle.com/ for details. This only makes sense to use if you're travelling on your own, want to save money, but don't want to use the bus; if you're with others, a normal taxi would be more sensible.
From Glasgow Airport
Take a bus to Buchanan Street bus station in Glasgow, then change to a bus to Edinburgh.
Alternatively take a taxi to Glasgow Queen Street station (or a 905 bus to West George Street outside the station), and take a train from there to Edinburgh Waverley.
From Glasgow Prestwick Airport
Glasgow Prestwick has its own railway station, so the best option is to take a train to Glasgow Central station then change to a train for Edinburgh.
http://www.gpia.co.uk/AirportInfo/HowTo/train.asp
There is also a bus service between Glasgow Prestwick and Edinburgh: http://www.gpia.co.uk/AirportInfo/HowTo/bus.asp