Accommodation
From DebConf7
If you have questions which are not answered on this page, please contact accommodation@debconf.org.
Hostels
We have booked rooms for those who requested sponsored accommodation in two backpackers' hostels a few minutes' walk from Teviot:
How to find the hostels:
If you are booking your own accommodation, and want something cheaper than a hotel, other nearby backpackers' hostels include:
Hotels
The DebConf venue, Teviot, is in the south of the city centre, close to a wide range of hotels and guesthouses.
We suggest the Premier Travel Inn Edinburgh City Centre, 82 Lauriston Place (about 550m from Teviot). Telephone: +44 131 221 7130. If you wish to stay there, you should book your accommodation directly with the hotel. (Make sure you book in the Premier Travel Inn on Lauriston Place: there are several others in Edinburgh, further from the conference venue.)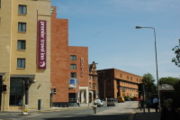 This map shows the locations of some of the cheaper hotels near Teviot, including the Premier Travel Inn. (Note that the Premier Travel Inn is next to the Novotel, and across the road from the Best Western.)
Nearby hotels include:
http://www.visitscotland.com/accommodation/?view=Accommodation has more information on accommodation options. Renting an apartment or staying in a bed-and-breakfast may be cheaper than a hotel.
TripAdvisor is a useful resource for seeing other travellers' reviews of accommodation. For example, they have reviews of the Premier Travel Inn.